The Bouncer
バウンサー
Baunsā

---

Developer(s):
Square
Publisher(s):
Square
Release date(s):
JP December 23, 2000
NA March 5, 2001
PAL June 22, 2001

Genre:
Beat 'em up
Game modes:
Single-player, multiplayer
Ratings
ESRB: Teen
ELSPA: 15+

Platform(s):
PlayStation 2

---

Producer:
Shinji Hashimoto
Director:
Takashi Tokita
Scenario writer:
Character designer:
Tetsuya Nomura
Composer(s):
Noriko Matsueda and Takahito Eguchi
The Bouncer, known in Japan as Bouncer, is a 2000 beat 'em up fighting game for the Sony PlayStation 2 video game console. It was co-developed by Squaresoft (now Square Enix) and Dream Factory. The game features character designs by Tetsuya Nomura and music by Noriko Matsueda and Takahito Eguchi.
The game marks Squaresoft's first release on the PlayStation 2. The game was known for its production values, introducing a juggling physics engine and graphical techniques such as bloom lighting and depth-of-field effects.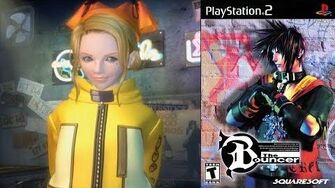 Plot
The Bouncer tells the story of an eventful night in the city of Edge, akin to an action martial arts movie. Under the influence of the Mikado Group, a multinational conglomerate excelling in the fields of bionics, robotics, and energy resource technologies, Edge is the corporation's center of operations and headquarters, and under its newest CEO, Dauragon C. Mikado, the Mikado Group initiates its plans for its next generation revolutionary orbital satellite solar microwave energy collection system. While it would seem that the Group's presence would help Edge flourish, the city has long been a place considered a warren of desperation and corruption, with gangs said to roam about its streets and the Group said to have ties to underworld racketeering and crime, with all exacerbated with a current economic recession.
In its most dangerous area known as Dog Street exists the bar known as FATE, where its three bouncers, Sion, Kou, and Volt, work with their boss, and live life day to day with their close friend and fellow coworker Dominique. Though seeming to be just everyday martial artists and tough guys on call to keep patrons in line and keep their workplace peaceful, all three share lives negatively impacted by the Mikado Group. Little do they know, their shift will come to tie destiny together with the Mikado Group's master plans... and send them to settle things with its megalomaniacal grip once and for all.
Characters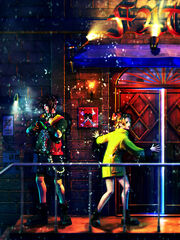 Innovations and Legacy
Like earlier Dream Factory & Squaresoft collaborations, such as Tobal, Bushido Blade, and Ehrgeiz, The Bouncer used novel design and presentation ideas, but its experimental nature divided critics. While the game itself is not commonly remembered as a high point in the PS2's library, some of its features were popularized by more successful games and became widely-used.
Graphics Engine and Shading Filters
The game's presentation and production values were considered groundbreaking, particularly due to its introduction of innovative shading techniques, most notably what would later be called a light bloom effect, which critics at the time described as a "glowing" effect that created "a unique gloss that's never been used before with such success." This effect was used in order to create a more cinematic movie-like look, as well as to compensate for the PS2's lack of anti-aliasing. The Bouncer also introduced a depth-of-field (DOF) effect, blurring the background or foreground during cinematic cutscenes. Both the bloom and DOF effects are now widely used in modern action games, and more generally, The Bouncer was a precursor to modern shaders.
According to director Takashi Tokita in a 2001 interview: "No matter how many polygons you use or how realistic the textures are, without filters and lighting, CG pictures will be of a quality lower than that of a figurine. In order to create atmosphere, we spent much time on filters and lighting. We adjusted each scene in detail with an editor that conducted parameter adjustments on the actual hardware."
Juggling Physics Engine
The Bouncer also introduced a new juggling type of ragdoll physics engine to third-person action games, allowing the player to launch enemies into the air with an attack and keep them suspended by striking them repeatedly. Enemies can also be thrown or otherwise knocked into one another, causing all of them to take damage at once. This juggling type of ragdoll physics was later refined and popularized by the Devil May Cry series.
RPG Elements and Cinematic Storytelling
And finally, while Dream Factory/Squaresoft had previously introduced RPG elements to the beat 'em up genre with the Tobal series, The Bouncer was the most RPG-like beat 'em up released up until then, with an emphasis on character development systems and branching storylines. It was also the most cinematic beat 'em up released up until then, with a heavy emphasis on storytelling through movie-like cutscenes. The game's style of cinematic storytelling and RPG elements would later become popular in 3D hack & slash action games, such as the Onimusha, Devil May Cry and God of War series.
Reception
 

Reception
Aggregate scores
Aggregator
Score
Average Score
82%
(14 reviews)
Review scores
Publication
Score
Famitsu
31 / 40[1]
Game Informer
8.5/10[2]
GamePro
18.5 / 20[3]
Game Revolution
C+[4]
GameSpot
6.7 / 10[5]
IGN
7 / 10[6]
Official PlayStation Magazine (US)
[7]
Absolute PlayStation
84%[8]
AllRPG
9.1 / 10[8]
GamePlay RPG
90%[9]
Gamereactor
9 / 10[10]
Gamer's Pulse
88%[11]
PSX Extreme
9 / 10[12]
8.9 / 10[13]
Although the game received a healthy amount of press before its actual release, it was met with mild sales and a mixed reception ranging from positive to mediocre.
Box Art
Merchandise
CGI Art
References
External Links
Community content is available under
CC-BY-SA
unless otherwise noted.